Since 2013, Heart Centered Kirtan has been offering kirtan throughout New England with our original call-and-response devotional music.  Weaving Sanskrit and Buddhist mantras into a unique blend of modern Western musical styles, Heart Centered Kirtans are meditative and uplifting experiences.  The band is wallah Libby Volckening (keys/vox), Ezra Landis (guitar), Owen Landis (percussion), and friends.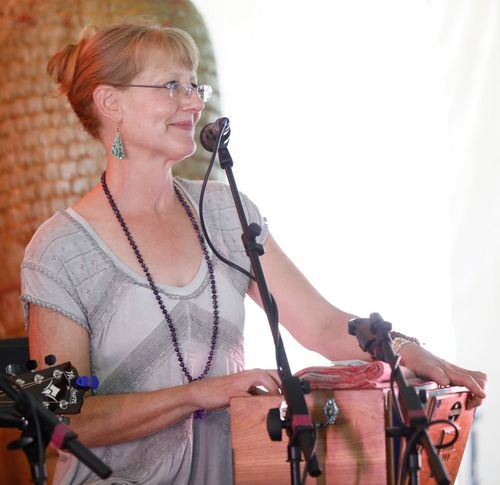 Libby Volckening
Yoga teacher and singer/songwriter Libby Volckening is a long-time student of mantra, studying first with Manorama at a workshop Kripalu in 2005, where she discovered the work of Thomas Ashley-Farrand (Namadeva Acharya) whose books and audio recordings made mantra come alive for her.  In Namadeva's lineage, she has studied with Bharata Bill Francis Barry and Rajeshwari Gretchen Carmel, and she has served as respondent to walli Bhavani Lorraine Nelson (www.bhavanilorrainenelson.com).  Most recently, she studied Vedic chanting in the Krishnamacharya lineage with Sangeetha Sriram through Shraddha Yoga.
From a young age, Libby enjoyed music.  She started piano at age 5 and sang in various choirs and choruses including the New Jersey All-State Choir and The Smiffenpoofs.  After a 20-year musical hiatus, Libby joined Heart Centered Kirtan with Jeff Martell in 2014, and with his encouragement, she discovered songwriting. After Jeff's sudden passing in January 2016, Libby completed and released the first Heart Centered Kirtan CD in November 2017.
A second CD of original mantra music Invoking the Divine  Feminine came out in September 2021, and a third album focusing on the masculine principles is due out soon.  Stay tuned!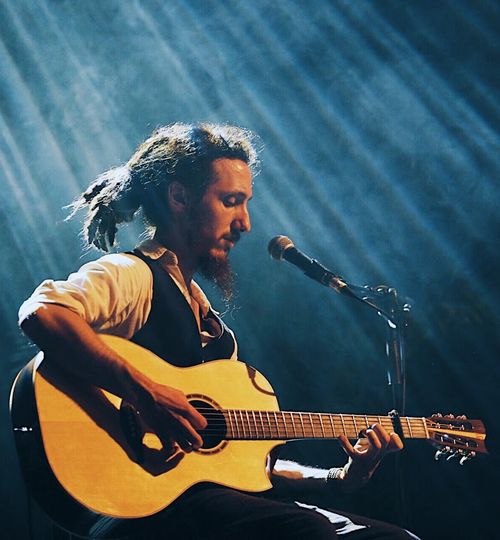 Ezra Landis
Ezra Landis has become a strong presence in the world music circuit, sharing the stage with renowned artists such as Snatam Kaur, Ajeet Kaur, Simrit, Donna DeLory, and Jai-Jagdeesh. His gentle yet powerful guitar playing offers a profound musical experience as he weaves together influences from folk to funk to flamenco, reggae to rock and Celtic to classical.
Outside of the world of sacred chant music, Ezra also finds great joy in writing and performing instrumental music with his bands Same Size Feet and The Evocatives.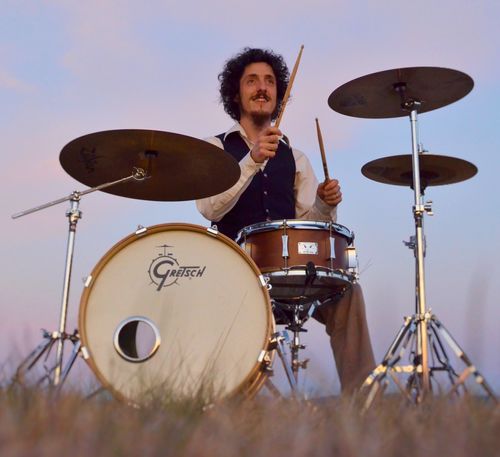 Owen Landis
For nearly a decade, Owen Landis has been playing drums with kirtan luminaries such as Jai Uttal, Donna De Lory, Wah!, C.C. White, David Newman, Girish and many others. Rhythm has always moved him. From an early age his parents exposed him to a wide range of music: the Beatles, Yes, Paul Simon and Bobby McFerrin, to name a few.
Over the years, Owen has played in several groups in the Monadnock region of NH: Firelight Revolution, Run Gazelle Run, the Terry Landis Band and Dragonfly.  Currently you can catch him with Crazy Love, Same Size Feet, and The Evocatives. When not playing music he enjoys time with his wife and two kids, building things out of (mostly) wood, rock climbing, baking and celebrating the beauty of life.
Thomas Matherly is a multi-instrumental singer/songwriter based in Western Massachusetts. Their honest, insightful lyrics offer hopeful commentary on the themes of love, peace, and the natural world.  Musically, Tom leans towards a blues and rock sensibility, their guitar underscoring versatile vocals that seamlessly range from rich baritone to soaring falsetto. 
Matherly performs solo as Fissure Cat and with their band Tender Spot which just released their debut EP Tender Spotz available on Bandcamp and streaming on all platforms.